As a new mom working full-time, I knew I was going to be busy. I'm used to being busy. I'm super organized and I've balanced working a demanding job, managing a blog and pursuing a graduate degree with flare. If anyone could handle the balancing act of work and children, it was me.
I wasn't going to let a child get in the way of my life. Sure, my time would be limited. But I would just bring the baby along and not skip a beat. Organization, planning and determination would get me through this just like any other busy aspect of my life.
Boy, was I wrong.
There are other elements I didn't anticipate. You know, like lack of sleep. I knew I'd be sleep deprived. I survived undergrad and grad school, and I'm really not much of a sleeper anyway. So I thought I'd be fine. But I never fathomed that it was humanly possible to survive on such little sleep. I was up for 24 hours before I delivered my daughter (I'll call her Baby J9), and once she was born, sleep became this elusive concept I could never quite grasp.
Bottom line: I'm tired. More tired than I have ever been in my entire life. My creative juices are dried up, my desire for a social life has dwindled and I want nothing more than sleep.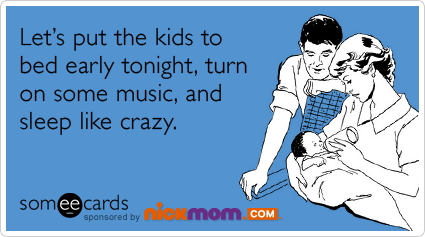 The severe lack of sleep along with the new demands of a child have completely robbed me of all things fun. I used to plan my outfits in advance and enjoyed the creative styling process behind it. Now I'm just lucky I'm wearing something that is clean and fits. I wrote the article Moms Bringing Sexy Back before I had a child and before I really understood what being a mom meant.
I met two important figures during my short time as a mom. The first person is Murphy.
Murphy's Law states that anything that can go wrong will go wrong. It felt like we also brought Murphy home with us from the hospital. In Baby J9's short life, our washer and dryer broke down twice (do you know what it's like to have an infant and no washer/dryer?!), BOTH cars needed major repairs, and our computer caught a terminal virus. And just for fun, Murphy added on a car accident (in addition to the repairs – everyone was fine), major family illnesses and hospital visits and problems with movers breaking furniture.
Murphy is not my favorite person, but what he taught me was that I need to learn how to balance out everyday life struggles with another human who completely depends on me. My threshold for trivial matters has significantly diminished. I can't sweat the small stuff anymore because I don't have time to. When it comes to people drama or the piling laundry, I have to channel my inner Elsa and "let it go."
The other person I became close with is Maslow.
Maslow's Hierarchy of Needs states that people are motivated in stages. Lower level needs like food, shelter and sleep need to be met before a person can progress to other stages and eventually achieve self-actualization. Since baby, I've had to make decisions based on this model, often putting off outings with friends (Love and Belongingness) and this blog (Esteem/Self-Actualization) to satisfy my first need of sleep. I'm also now responsible for satisfying some of these needs for another person, so I'm having a hard time progressing until the Biological and Physiological needs are met.
I have to admit I often judged new moms for using their children as excuses for why they can't do certain things. Reasons like naptime or a cold seemed like a cop out. But now I realize they weren't copping out; they were just trying to survive. I confess that I have become that mom… and I'm okay with that.
I'm okay with that because I have a beautiful, funny and smart baby who gives me the best smiles and snuggles. She will only be a genuine baby for 12 months. In the span of my life, I only get 12 months of her cooing, sleeping in my arms and eyeing me in adoration. I'm savoring each laugh, each bath and each milestone. And even though I really miss things like blogging, happy hour, Zumba and, God knows, sleep, I know that I will miss these precious 12 months way more.
Hope to blog more soon,
J9